Vehicles
We use the two most off road capable models from the Hummer lineup. You can choose from the Hummer H1 or the Hummer H3 for your tour.
H1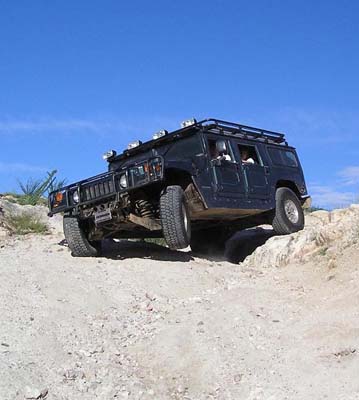 The H1 Hummer is a civilian vehicle based on the military's M998 High Mobility Multipurpose Wheeled Vehicle, popularly known as the Humvee, which was created by AM General. The H1 is the most capable off road vehicle ever made and it is still used by our military, border patrol and fire departments. The H1 can ford 30 inches of water, climb a 22-inch vertical step, and has 16 inches of ground clearance. The high clearance is made possible by tucking the driveline components inside a channel in the central space between the left and right seats. The H1 is also equipped with a Central Tire Inflation System (CTIS), which enables the driver to increase or decrease the tire air pressure while the H1 is moving to adapt to the terrain at hand. Although the H1 is not the most comfortable vehicle it is still the one and only king of the road.

H3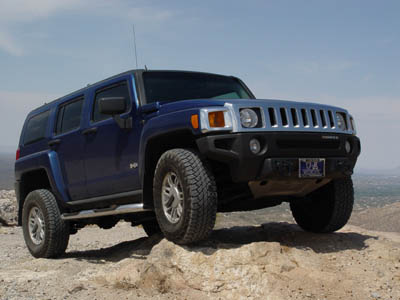 The H3 is the newest member of the Hummer family. It took engineers six years to design it and they got it right. Even though the H3 is a little bit smaller than the H1 it does not lack anything in the off road department. The H3 is a little more comfortable than its counterpart but can still handle the toughest terrain possible. The Hummer H3 can ford 24 inches of water, climb a 16-inch vertical step, and has 9.5 inches of ground clearance. The Hummer H3 can scale a 60% grade, and traverse a 40% side slope just like the H1 can.